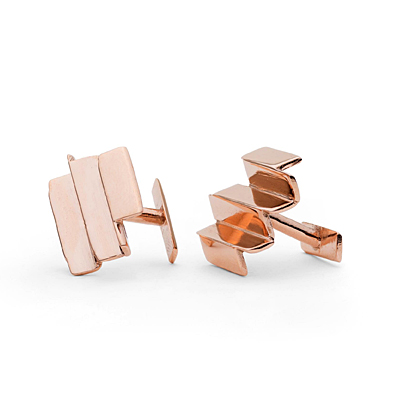 Cufflinks, 9KT Rose Gold, 2016
15 x 17 mm / 0.6 x 0.7 in
Edition of 12 + 2AP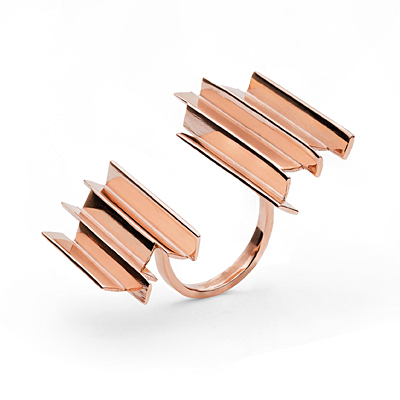 Ring, 9KT Rose Gold, 2016
37 x 33 mm / 1.5 x 1.3 in
Edition of 12 + 2AP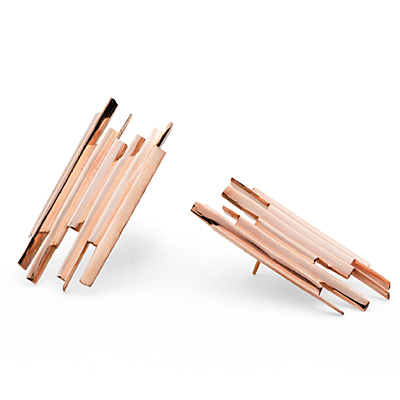 Earrings, 9KT Rose Gold, 2016
45 x 23 mm / 1.8 x 0.9 in
Edition of 12 + 2AP
Cityscapes collection of wearable structures seeks to unify natural and manmade landscapes. Here, the functional support acts as a horizon line from which shards are reflected to create interactive elements with varying geometric intricacy.
Works in the collection include a double ring, large earrings, and a pair of cufflinks, all of which grow from aggregated clusters of folded shards – the primary unit of the designs which are inspired by metropolitan skylines mirrored on bodies of water.
Presented by Elisabetta Cipriani – Jewellery by Contemporary Artists.