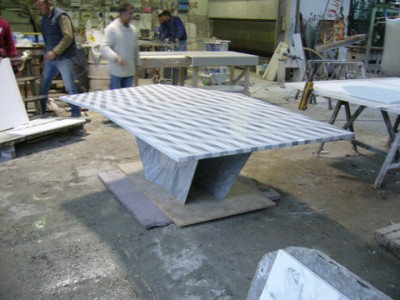 Zebra, Fusion-Engineered marble – White Carrara and Grey Bardiglio
2420 x 1660 x 760 mm / 95.3 x 65.3 x 29.9 in.
Varied Edition of 6 + 2 A.P.
2008 / 2010
Zebra Table's fusion of contrasting grey and white marble may provoke subconscious associations with multiple possibilities like the black and white mammalian type and the interiors of Renaissance Tuscan duomos. However, XP&'s Zebra has a vitality of its own. It tells of a drive to explore the time-honored material through contemporary manufacturing techniques. The fabrication process betrays the scale of the form through material effects which render it ethereal.
PROCESS
Fabrication images of ZB/AP1
December 2008. Carrara, Italy
ZB/AP1 is defined by two tapered diamond bases and a dizzying table top of matte and polished stripes of Carrara and Bardiglio marbles. This is the result of cutting, bonding, and sandblasting until achieving an uncanny effect.