Bad Habits Exhibition
Featuring the No More Play Collection
Art Nhow
Nhow Hotel, 35 Via Tortona, 20144 Milan
April 29 – September 12, 2010
Innocenti Evasioni
Featuring Full Circle
Via Privata della Bindellina, 20155 Milan
On view until September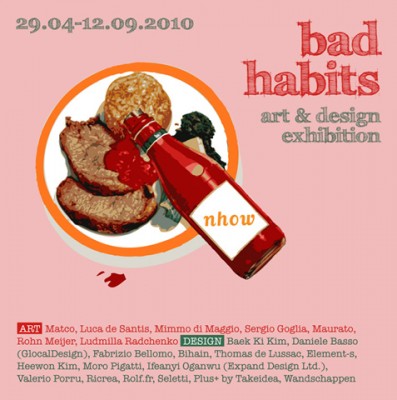 Following the presentation of Ifeanyi Oganwu's No More Play Collection at the Hidden Heroes exhibition during Milan Design Week, Expand Design Ltd will exhibit in two new locations until September 2010.
The No More Play Collection will be on view at BAD HABITS, an exhibition curated by Elisabetta Scantamburlo at Milan's Nhow Hotel. The collection is displayed on the ground floor and is amongst work from over 15 international artists and designers that is exhibited throughout the hotel's four-levels.
Full Circle (Mint Chip) is on view in the lobby of Tommaso Arrigoni's Michelin-starred INNOCENTI EVASIONI restaurant. Located just outside of downtown Milan on a quiet neighbourhood street, the restaurant has a spacious dining room with views of a beautiful garden and features a menu of exquisite contemporary Italian cuisine.
Generated as exercises in undefined spatial potential, material performance, customization, and nomadic possibility, No More Play emphasizes the correlation between function and adaptability. The collection consists of Full Circle, a multi-user bench made of composite material; Ren, a low marble table; and Tootsie, a flexible marble floor mosaic. The designs are produced as limited editions by means of advanced digital technologies as well as refined handicraft and result in unexpected new typologies.