Expand Design at SaloneSatellite
Milan Fairgrounds, Rho
Pavilion 22-24, Stand C15
April 12 – 17, 2011
Open Daily, 09:30 – 18:30
Expand Design is pleased to announce the presentation of its 2011 collection of prototypes designed by Ifeanyi Oganwu at the SaloneSatellite. Expand Design will showcase Double Agent Suite, an extraordinary iteration of a traditional offi ce chair and desk that is designed to simplify the workflow of a 21st century executive. Ifeanyi Oganwu will present alongside London-based designer Il Hoon Roh. Works from Ifeanyi's 2010 collection will also be on view.
About SaloneSatellite 2011
Curated by Marva Griffin Wiltshire, SaloneSatellite was founded in 1998 and is synonymous with young creativity. The 2010 edition showcased over 700 designers, while this year's edition is particularly important since it runs in conjunction with the 50th anniversary of I Saloni. As the Salone looks towards its next 50 years, Satellite will continue to be an unparalleled showcase of tomorrow's design talents.
For additional information, please visit www.cosmit.it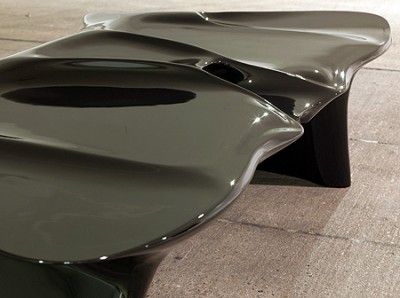 Double Agent Desk, Detail, Composite Material, Prototype, 2011