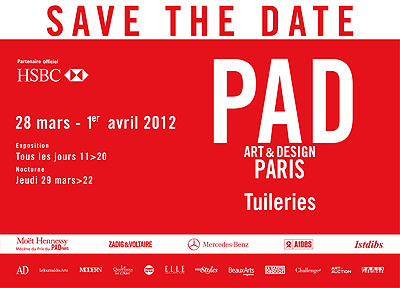 Ifeanyi is now represented by Paris-based gallery Perimeter Art&Design led by Pascale Revert and her amazing team. Perimeter will be introducing Expand to an international audience in a group show at PAD, Paris's premier art and design fair taking place March 28th through April 1st.
Perimeter Art&Design, Stand No. 15 / PAVILLON DES ART ET DU DESIGN
From 28th March to 1st April 2012, at the Tuileries in Paris
VIP Opening on Tuesday March 27th from 5pm to 10pm
Open daily, 11am to 8pm
Late opening Thursday March 29th till 10pm
About Perimeter Art&Design:
Since 2004 Perimeter Art&Design has been developing, producing and presenting exceptional furniture and objects. Collaborating with designers, artists and international architects from different generations, the gallery promotes diversity and richness in the world of contemporary design. Perimeter's selection for the 2012 edition of PAD Paris reflects this approach.
For additional information please visit:
www.padparis.net
www.perimeter-artanddesign.com