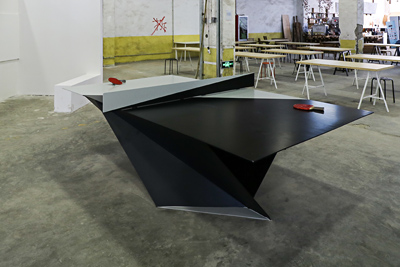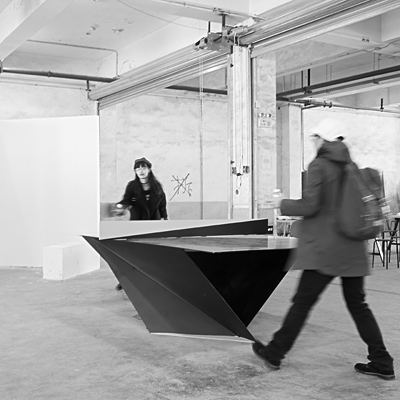 Shwisty, Mild Steel, 2015
760 x 1510 x 2740 mm / 29.92 x 59.45 x 107.87 in
910 x 1830 x 2740 mm / 35.83 x 72.05 x 107.87 in (Including net)

Shwisty is a participatory surface designed for public use and engineered for both indoor and outdoor settings, part of a series in which compact functional planar surfaces are derived from folded continuous loops. Its multipurpose nature lends the table to work, play and relaxation depending on the number of users at a given time.
The design is formed of planar sheet steel constructs – 5mm in thickness, which create dichromatic structural supports and playing surfaces. Diachromatism is introduced as topological markers to describe the trajectory and structural interdependence within each group of planar surfaces, resulting in the combination of pattern and function. An approach inspired by a range of sources notably Hank Willis Thomas's photograph Crossroads as well as Peter Doig's painting Ping Pong.
The construction incorporates manufacturing technologies and processes available in Shenzhen with a view towards deploying the work in other cities – one per continent. In addition to adapting design to each site of installation, local fabrication expertise will be utilized as a means to produce a range of unique results within the series. In this instance, the constituent parts are cut offsite with assembly and finishing carried out onsite.
Commissioned on the occasion of the 2015 Bi-City Biennale in Shenzhen, and deployed at Maker Maker in order to create an active surface where play and relaxation are not only encouraged; they coexist within the site of an exhibition.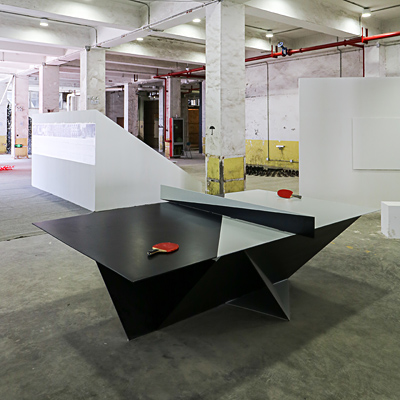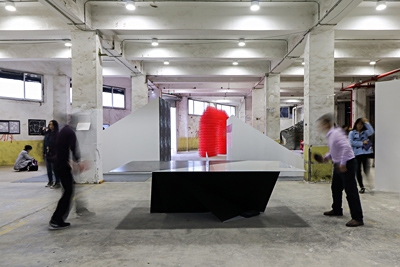 Photos Chaos Zhang, courtesy UABB (SZ).